Sprains Treatment Questions and Answers
If you are dealing with a sprain, we would love to help you find relief and recovery with our first-rate sprain treatments! For more information,

call us

! We serve patients from Edmond OK, Norman (24th) OK, Norman (HealthPlex) OK, West Moore OK, I-240 & Sooner Rd OK, Yukon OK, Valley Brook OK, and Bethany OK.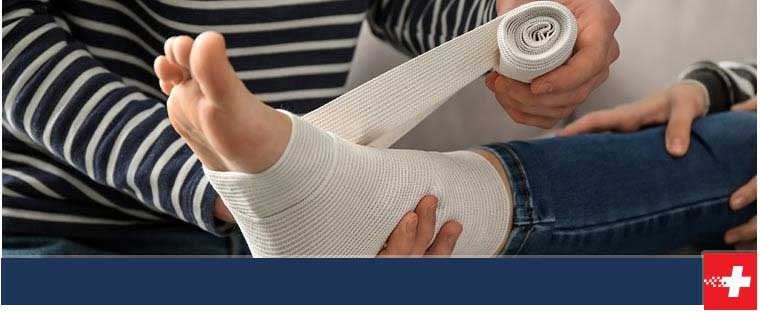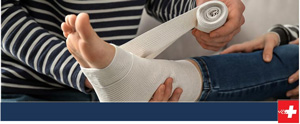 What is the first aid treatment for a sprain?
While the best first aid for a sprain can be found at a primary or urgent care clinic, there are some steps you can take to prevent further injury before you get there! The general rule for any sprain is to follow the RICE method, which stands for rest, ice, compression, and elevation. For more information on exactly how to implement the RICE method for your particular sprain, please do not hesitate to call us at Immediate Care of Oklahoma! We have six different clinics across Oklahoma, including three in Oklahoma City, two in Norman, and one in Yukon. Feel free to get in touch with the clinic nearest you.
When you come to Immediate Care of Oklahoma for sprain treatment, our excellent physicians will act swiftly and carefully to provide you with expert initial treatment of your sprain. Initial treatment will likely involve some form of pain relief and immobilization or support to hold the sprained area in place and prevent further injury. Such immobilization or support could involve a walking boot, sling, brace, or crutches, depending on the sprain's location and severity.
What is the best ointment for sprains?
With the numerous prescription and over-the-counter ointments and gels on the market these days for relieving pain and inflammation in your joints, muscles, and other soft tissues, it can be challenging to know which product will help you most! Furthermore, the best ointment for sprains often varies from patient to patient, making it even more challenging to know which product is best. All the same, our board-certified physicians at Immediate Care of Oklahoma will apply their expert knowledge and skill when determining which products are likely to help your sprain best, given the location and severity of the sprain and your medical history. They can also inform you of the reasons why the particular ointment will work best to heal your sprain and relieve your pain.
How long does it take for a sprain or strain to heal?
The length of time it takes for a sprain or strain to heal varies according to the degree or severity of the injury. In general, sprains are classified under three different grades. With grade 1 sprains being the mildest, grade II as moderate, and grade III as the most severe. Grade I sprains occur when the ligaments are stretched but not torn and take between one to three weeks to completely heal, though you will likely feel better within a few days to a week. Grade II sprains occur when the ligament is partially torn and usually take approximately three to four weeks to heal. With grade III sprains, the ligament is completely torn, and they can take anywhere from three to six months to completely heal since there is reduced blood flow to the sprained area.
We welcome you to come to Immediate Care of Oklahoma for the efficient and thorough treatment of any sprain! You do not need to make an appointment before seeing one of our doctors, as we happily accept walk-in appointments at all seven of our locations. Come and see us today!