Immunizations in Oklahoma City, OK
Immunizations for Flu, Pneumonia, Tetanus, and Wellness B-12 Shots Are Available at

Walk-in Clinics

near You in OKC. Our Clinics Are Open Late 7 Days a Week. No Appointment Needed.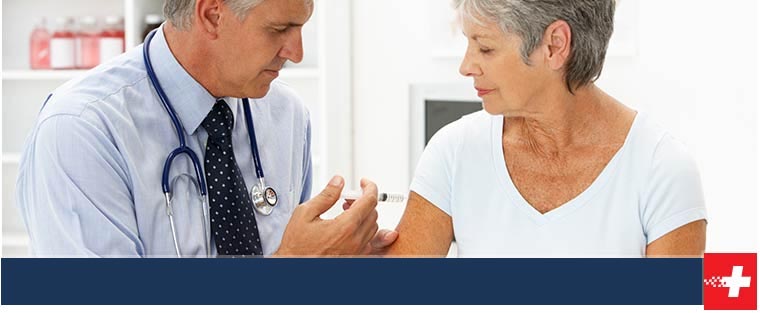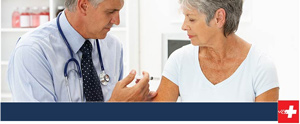 Table of Contents:
What is the purpose of getting immunizations?
What immunizations should my child receive?
Why do I need to get a flu vaccination every year?
How much do vaccinations cost?
Getting vaccinations will help protect you from a number of preventable diseases. Although babies are born with some protections, boosters and vaccinations will help protect them as their immune system develops. However, childhood immunizations do wear off, so you should also get certain vaccinations as you age. Additionally, you should receive vaccinations to help protect you from preventable illnesses that you are at risk of based on your job, where you travel, your lifestyle, or certain health conditions. A yearly vaccination everyone should receive is an annual flu shot, which will prevent you from catching the flu, passing it on to others, or from developing complications like pneumonia.
At Immediate Care Urgent Care in Oklahoma City, OK, we offer a number of immunizations and vaccinations to help you and your child stay healthy. If you have been wondering where you can go to receive vaccinations and immunizations, you can call any one of our convenient locations in OKC.
Although you know you and your child need immunizations, you may still have some questions.
What is the purpose of getting immunizations?

Immunizations are designed to produce immunity. Vaccinations are responsible for preventing millions of deaths and for the near eradication of life-threatening and preventable diseases like smallpox.

Additionally, proper immunizations create herd immunity, which is the protection generated within a community by high vaccination rates. It is difficult for a disease to gain a foothold in a community that is properly vaccinated against it. The importance of herd immunity is to protect the most vulnerable members of the community, such as newborns or those with chronic conditions, by reducing the chances of an outbreak of a disease they can't receive an immunization for directly.
What immunizations should my child receive?

Children receive a variety of immunizations that protect them from more than a dozen diseases, including polio, tetanus, measles, diphtheria, whooping cough, and rubella, to name a few. There are a number of vaccinations that children have to get before they start school or attend daycare. Vaccines need to be administered at ages when they will be most effective; for instance, children will receive the measles vaccines when they turn one year old. Immediate Care Urgent Care follows the Centers for Disease Control and Prevention (CDC) guidelines for immunizations.
Why do I need to get a flu vaccination every year?

Every year, the flu vaccine is changed and updated, although some strains in the vaccine will be reused from year to year. The vaccine changes because the circulating strains of the influenza virus change every year. The vaccine is intended to protect people against the most prevalent strains likely to be present during the upcoming flu season. Although not 100% effective against every strain of the virus that is circulating, a flu vaccine is worth getting in order to protect yourself and your loved ones from this respiratory infection and potential complications caused by it.

Immediate Care Urgent Care follows the guidelines published by the CDC and recommends getting the flu shot by mid to late October, which will allow enough time for the vaccine's gestation period to pass, providing you and your family with the best protection for the flu season starting in January. Taking the vaccine any earlier will put you at continued risk of getting the flu.
How much do vaccinations cost?

The Affordable Care Act requires health plans to cover preventative services, which includes vaccines. Therefore, most health insurance plans will likely cover the cost of vaccines. However, it is important that you know and understand your healthcare plan and the benefits and costs associated with it. If you're not sure if you or your child's immunizations will be covered by your insurance, call your insurance company directly.

At Immediate Care Urgent Care, we will help you figure out your health insurance policy, co-pay, and co-deductible amounts and file all insurance claims. We accept most major health insurance plans and offer affordable self-pay options for our uninsured patients.

At Immediate Care Urgent Care, we not only offer the flu shot, but immunizations for pneumonia, tetanus, and others, and wellness shots, such as B-12. If you are hoping to get your flu vaccination in Oklahoma City, you can trust the board-certified physicians and registered nurses at Immediate Care Urgent Care. Please call ahead to confirm vaccine availability or for additional information today.