Fever and Nausea Treatment Questions and Answers
Our urgent care clinic at Immediate Care of Oklahoma will be here to provide you with excellent medical care for any bouts of fever or nausea you experience. For more information,

call us

now or

schedule an appointment

online. We have convenient

locations

to serve you in Oklahoma City, OK.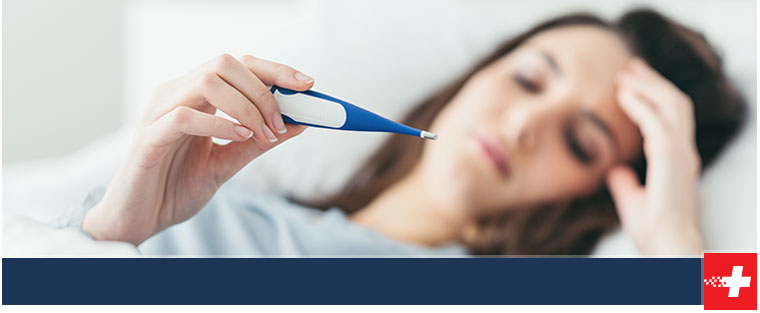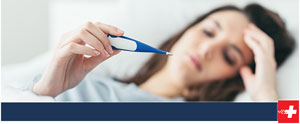 Table of Contents:
What is considered a fever?
What is nausea?
Can a fever and nausea be serious?
When should I see a doctor for my fever and nausea?
Fever and nausea are common, but very uncomfortable, symptoms of illness and infection. While such symptoms do not usually lead to serious complications, they can if they are caused by a serious illness or infection. As such, it is important to take fever and nausea seriously when they occur so you can seek the appropriate medical attention.
What is considered a fever?

A fever is an increase in body temperature triggered when your immune system is fighting off an infection. When you are sick with a bacterial or viral infection, your immune system responds to the invading pathogens by increasing your temperature, making it more difficult for the bacteria and viruses to survive.

A body temperature of 100.4 degrees Fahrenheit or above is generally considered a fever, however a low-grade fever can occur with lower body temperatures between 98.6 degrees Fahrenheit and 100.4 degrees Fahrenheit.

Moreover, the body temperature threshold for a fever varies according to the area of the body that is checked and the age of the person. As such, an oral or axillary (under the armpit) temperature of 99.7 degrees Fahrenheit is considered a fever in most adults, while an ear or rectal temperature of 100.6 degrees Fahrenheit is also considered a fever for adults.

In contrast, an ear or rectal temperature in a child of 100.4 degrees Fahrenheit is considered a fever, while an oral or axillary temperature in a child of 99.5 degrees Fahrenheit is considered a fever.
What is nausea?

Nausea is a queasy or uneasy feeling in your stomach that is usually a symptom of an illness or infection. It often occurs before vomiting, however the feeling of nausea is not always followed by vomiting. Nausea often occurs due to food poisoning, stomach flu (gastroenteritis), morning sickness with early pregnancy, seasickness or motion sickness, indigestion, emotional stress, and other conditions.
Can a fever and nausea be serious?

While fever and nausea are common symptoms of mild or benign illness or infection, they can also be a sign of a serious condition or even a life-threatening medical emergency. If your symptoms are serious but not life-threatening, an urgent care clinic is likely your best option for treatment. However, if your symptoms are life-threatening, you should go immediately to your nearest emergency room or call 911. With that in mind, some signs that fever and nausea are serious but not life-threatening include the following:

• Bouts of nausea for more than one month
• Fever higher than 100.4 degrees Fahrenheit in infants younger than three months, 102 degrees Fahrenheit in infants between three and six months, and 102 degrees Fahrenheit that also lasts longer than one day for children between six and 24 months
• Fever that lasts longer than three days or is accompanied by an unusual skin rash, abdominal pain, or pain with urination
• Nausea with vomiting that lasts for more than two days for adults, 24 hours for children, or two to 12 hours for infants
• Significant pain or headache
• Signs or symptoms of dehydration, including dark-colored urine, dry mouth, excessive thirst, or infrequent urination
• Unexplained weight loss occurring alongside nausea and vomiting
• Vomit that contains blood, is green, or resembles coffee grounds

Some signs that your fever or nausea is a life-threatening emergency include the following:

• Agitation, confusion, headache, and a rapid heart rate
• Blurred vision
• Chest pain or difficulty breathing
• Extreme abdominal pain or cramping
• Fecal material or odor in vomit
• Fever with a body temp of 104 degrees Fahrenheit or higher
• Rectal bleeding
• Severe headache and neck stiffness along with a high fever
When should I see a doctor for my fever and nausea?

You should see a doctor for fever and nausea if you are experiencing any of the accompanying symptoms listed in the question and answer above. Our doctors at Immediate Care of Oklahoma would be happy to see you, evaluate your symptoms, and provide any necessary treatment.

For more information about fever and nausea treatment or an appointment with us at Immediate Care of Oklahoma, please give us a call, schedule an appointment through our website, or visit one of our seven clinics for a walk-in appointment in Oklahoma. We serve patients from West Moore OK, Norman (HealthPlex) OK, Norman (24th) OK, Edmond OK, Yukon OK, I-240 & Sooner RD OK, Tecumseh OK, and Bethany OK.