What Is the Difference between Urgent Care and ER?
Emergency rooms and urgent care centers are two different types of healthcare institutions that offer treatment for urgent and emergency medical concerns. The main difference between urgent care and ER is the level of care offered. Urgent care facilities are intended to treat non-life-threatening medical conditions like minor injuries, infections, and illnesses. They are frequently open after regular business hours, and patients are frequently seen on a walk-in basis. In contrast, emergency rooms are effective for handling medical emergencies like heart attacks. Visit Urgent Care of Oklahoma today, where our medical director,

Kevin Penwell, D.O.

, and our staff of providers will give you the care you need. For more information,

contact us

or

schedule an appointment

online. We have

convenient locations

all over Oklahoma to serve you.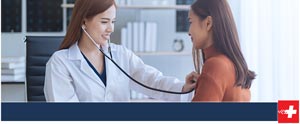 Table of Contents:
What classifies a patient as urgent?
What are some benefits of going to urgent care instead of an ER?
What is the difference between urgent care and emergency care?
What is considered an urgent emergency?
As a means to help reduce the strain on the health care system that is very frequently placed on emergency care clinics and hospitals, different types of clinics such as walk-in clinics and immediate or urgent care clinics have been created. Urgent care clinics are able to relieve from of that strain from emergency rooms by taking in patients that require urgent medical care but are not in life or limb threatening condition. Majority of the medical cases addressed at emergency rooms are considered not emergency situations and would be more quickly and effectively addressed at an urgent care clinic.
What classifies a patient as urgent?

The condition of a patient can be classified as urgent if they require medical attention within the next 24 hours and without that medical attention their situation could become dire or a crisis. Urgent care is typically for unexpected conditions or injuries and for patients who are not able to wait until their primary care physician is next available to schedule them in for an assessment. Urgent cases are different from emergency cases, and differ as urgent care is not usually able to provide emergency surgical procedures and should not be used for situations that immediately life or limb threatening.
What are some benefits of going to urgent care instead of an ER?

Urgent care clinics were created as a sort of stepping stone between primary care clinics and the emergency room, allowing them to take some of the cases that do not require emergency medical attention from the emergency rooms to allow for faster access to health care for all patients. Urgent care clinics are able to offer a much faster wait time than a typical emergency room, allowing for you to arrive without the need for an appointment and be in and out of the clinic with minimal waiting time. As well, urgent care clinics are considered the more affordable option from emergency room visits, by only taking in urgent cases rather than needing to be able to provide emergency medical care, they are able to ensure that you only have to pay for the exact services for which you may require.
What is the difference between urgent care and emergency care?

Urgent care clinics do not have the specialized equipment and expertise to perform emergency surgical procedures. They act as a bridge between primary care and emergency care, being able to address medical situations that would require sooner attention than what primary care clinics may be able to provide, while leaving all life and limb threatening conditions to be handled by emergency care. Most emergency rooms will operate through a triage system, meaning that if there are many patients there that have more severe conditions than you, you could be facing an incredibly long wait time. Urgent care clinics are able to offer a wide variety of health care, including last minute lab testing for STDs, pregnancy, or Covid-19, as well as treatment for cold and flu symptoms, sprains, injuries, or respiratory infections, and physical evaluations for employees and workers comp. Both types of care are available on a walk-in basis, but since urgent care clinics do not need to work through a triage system as their patients do not require emergency medical attention, the wait times are significantly shorter than emergency rooms and the costs will end up being much more affordable.
What is considered an urgent emergency?

When trying to decide whether your medical situation warrants a trip to urgent care or emergency care, there are some indicators to keep in mind. To be considered an urgent emergency medical situation that requires emergency attention.

You may be suffering from one or more of the following:

– Struggling to breath.
– Significant or severe bleeding that won't stop.
– Knowledge of ingesting toxins or poison.
– Severe allergic reactions.
– Pain or pressure in the chest.
– Burns or cuts that are moderate to severe.
– Seizures or convulsions.
– Becoming unconscious.

If you there is a chance that your condition could very quickly become life or limb threatening or is already at that point, it is considered an urgent medical emergency and would require more intensive medical attention than what is available at an urgent care clinic.

We're standing by to take your call, and we look forward to seeing you soon! For more information, contact us or schedule an appointment online. We have convenient locations near you to serve in Oklahoma City, OK. We serve patients from West Moore OK, Norman (HealthPlex) OK, Norman (24th) OK, Edmond OK, Yukon OK, I-240 & Sooner RD OK, Tecumseh OK, Bethany OK, and surrounding areas.